Children's Advocacy & Protection Center Staff

The CAPC staff is comprised of a full-time executive director, administrative assistant, victim's advocate, and an outpatient therapist. Other staff includes a part-time licensed practical nurse and a community outreach and volunteer coordinator.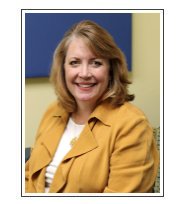 Executive Director –  Adrienne Opdyke, BSW
Adrienne holds a Bachelor of Social Work (BSW) degree from Appalachian State University. She has ten years of experience working with Children's Advocacy Centers. Adrienne has served as the Victims Advocate and Multidisciplinary Team facilitator since September 2007. She is also an Instructor and Facilitator for Darkness to Light's Stewards of Children sexual abuse prevention program.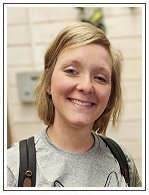 Community Engagement & Education Coordinator – Ashley Moretz, LCSW
Ashley graduated as a double major from UNC Charlotte (Bachelor of Social Work/Bachelor of Liberal Arts and Sciences in Criminal Justice and Criminology), and continued on to graduate with her Master of Social Work degree in 2011. She completed her clinical license serving as a therapist in child/adolescent mental health highlighting students with specific educational needs, and those impacted by the juvenile justice system. Ashley has experience of over 10 years working in behavioral health direct care, program development and management, the public school system, and most recently helping establish a behavioral health clinic within a local county health department while providing direct services.
In her free time Ashley enjoys serving in her church, spending time with her husband and family, traveling/camping, and doing life with her best gal pals! She is excited to bring her creativity, clinical background/experience, and love of service to The Children's Advocacy and Protection Center of Catawba County as the Community Engagement/Education Coordinator.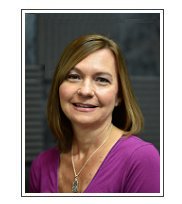 Outpatient Therapist – Karen Henson, MA, LPA
Karen is a Licensed Psychological Associate, earning a Master's Degree in Clinical Psychology from Appalachian State University in 1993. She has 22 years experience working in mental health centers across North Carolina providing therapeutic services to children, adolescents and adults. Throughout her career, she has worked with sexual abuse issues and has experience working with victims, families and perpetrators. This experience allows a unique perspective and understanding of sexual abuse dynamics. Karen joined the CAPC in September 2008, providing on-site treatment services to victims and their families. She is trained in evidenced-based clinical practices and is committed to assisting children and families through the healing process.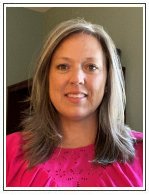 Child and Family Advocate – MeLissa Swartley
MeLissa graduated from Western Carolina University where she earned a Bachelor's Degree in Criminal Justice with a minor in Child and Family Studies. She has worked as a Teaching Parent, Children's Pastor and CPS Forensic Investigator.
MeLissa and her husband have 4 children and enjoy spending time anywhere there is a body of water.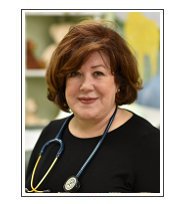 Nurse Practitioner – Julia Wetmore, CPNP-PC
Julia joined the CAPC staff in the summer of 2014. She is a certified pediatric nurse practitioner with a PhD in nursing education. Julia also teaches nursing at Western Carolina University. She has over 30 years of combined experience in pediatric nursing and nursing education. She is rostered by the State of North Carolina to perform child medical exams in cases of suspected sexual and physical abuse and neglect.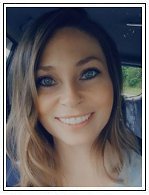 Medical Office Assistant – Kayla Goff

Kayla graduated from UMA in Clearwater FL with a Basic X-ray license in 2010. She has worked with pediatrics for the past 4 years as a medical assistant and administering vaccines.
She and her husband are parents to 2 beautiful children and 5 animals. Kayla loves her time with family and animals. They enjoy being outdoors together, going camping and playing on our outdoor toys.
Forensic Interviewer – Sarah Chester
Sarah graduated from Western Carolina University with a Bachelor of Social Work (BSW). She has worked as a CPS Forensic Investigator where she has been a member of our Multi-Disciplinary team for the past several years, and prior to that worked as a medical social worker. Sarah loves spending time with her family on the weekends, and going on new adventures.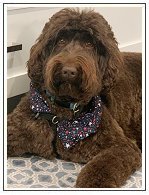 Therapy Dog – Chance
Chance was donated to the CAPC by Good Day Doodles for the purpose of therapy dog work. Chance is an Australian Labradoodle with a low/non shedding coat. While he was with Good Day Doodles, he received early neurological stimulation and socialization to increase the likelihood of success as a therapy dog. He was temperament tested as a puppy and at 2 months old he was selected specifically for work at the CAPC.
Chance began his work with the CAPC September 3, 2019. At four-months old Chance began his formal training with Achieve Obedience Academy's head trainer. Chance has completed basic obedience, marker training, advanced obedience, and public access training. He has received his AKC Canine Good Citizen title indicating that he has mastered ten specific obedience skills. Chance provides animal assisted interactions to the families we serve with the goal of minimizing stress and providing support to children and families in Catawba County impacted by child sexual and physical abuse. Chance also provides support to members of our multi-disciplinary team to reduce the impacts of vicarious trauma. Chance is half-way through his formal training, with goals that include being registered as a therapy dog and attending court proceedings with children to provide support when they testify.